Wedding Bunting Ideas For Marquees, Barns & Woodland Glades!
Main photo by Rebecca Goddard.
Whatever style you're looking for, cotton bunting has a magical way of tying all your design features in. Whether you're going for the classic pure white cotton, or are looking for accent colours, bunting can bring all your theme elements together to deliver the overall effect you want. It's the perfect way to finish your setting or venue.
If your ceremony is outside, like this on-trend woodland wedding, cotton bunting looks amazing strung casually through trees to create an enchanted, fairy tale effect. Don't have perfectly placed trees or poles? Throw some rope (as they've done in the pictures above), or clear garden line, across patios, courtyards or outside spaces and hang the bunting casually over the rope to create that perfectly draped look. The line blends into the surroundings and the bunting hangs majestically above your guests.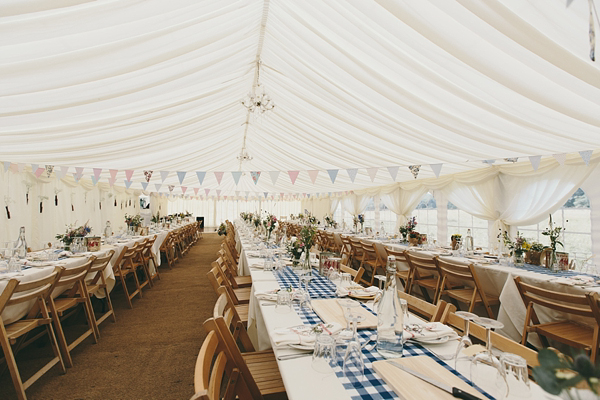 Photo credit Rebecca Goddard
If you've chosen a marquee wedding you have a wonderful, blank canvas. Drape bunting from the apex, hang it round the edges, string it down the guy ropes, loop it from corner to corner; or create a circus-top feel by running lengths out from the centre to create a party canopy that takes your décor to the next level.
In this shot the bunting has been strung in a zig-zag pattern, using pretty, country bunting that enhances the stylish, informal, atmosphere. Using colourful bunting that complements your theme blends all of the design elements together to create a feel that is modern and fresh, and looks stunning.
Alternatively, use cotton bunting in bright vibrant colours - it just looks amazing against the simple white backdrop of the marquee, and becomes the statement element of your styling. For rustic, vintage wedding styling, choose floral designs or more traditional checks and stripes for a pretty country vibe.
Simply tie or loop the bunting on the poles and posts of the marquee structure to create the look that's right for you.
Photo credit Philip Bedford
Bunting looks amazing when hung in barn weddings, creating a gorgeous contrast to the interior. Why not use it throughout your venue to draw the different areas together. Our hugely-popular multi-coloured rainbow bunting brightens any space. Made from 100% cotton, it's bright, bold and totally gorgeous. Hung around church vestibules, hotel ceremony rooms, or register offices to create the perfect backdrop for photos as you exit your ceremony.
And with festival weddings all the rage, it's perfect for creating that laid back, relaxed vibe. Here it's been tied above the reception drinks area to add a party feel. It can be slung around hay bales, tied into hedgerows, or floated over seating areas to give even the simplest of venues a unique touch.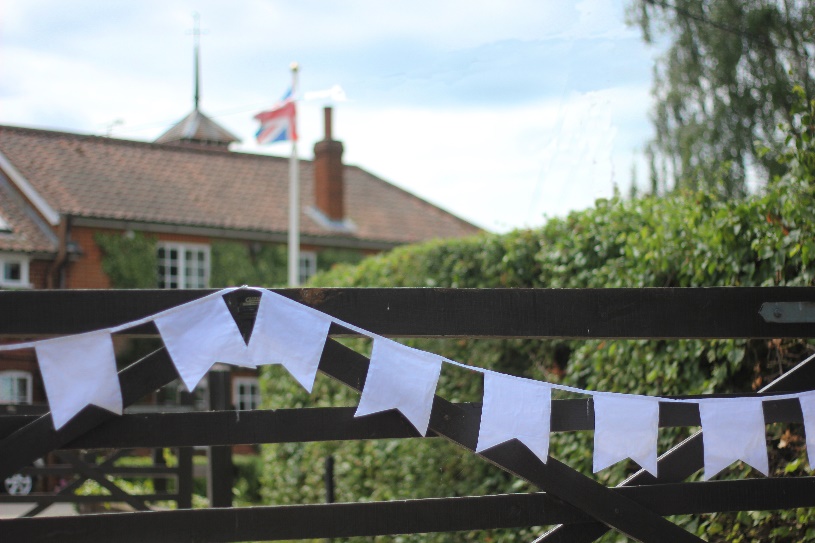 It's incredibly versatile and you don't need a team of stylists to make the most of its magical properties! A couple of drawing pins is all you need to hang a string on entrance gates, to let your guests know they've arrived at the right place. It looks so much prettier than balloons and will put your guests in the party mood!
Our classic floral bunting looks amazing whatever the setting, and its understated style shines in so many places. Weddings that are looking for the vintage tea party look can merge floral designs, with mismatched crockery and wild, meadow flowers to create a design that is both timeless and vogue.
Top tables, cake counters, present areas can all be highlighted with a touch of bunting. Use complementary colours that blend into your décor or contrasting, dashes of bright shades to give accents to the theme.
Whatever theme, or venue you choose, bunting is the perfect decorating choice. Tie it, pin it, hook it, loop it, or drape it over rope or garden line - the options are endless. There's a multitude of designs, colours and styles to ensure you can match your ideas and as it's fabric after the event you can store it away for your next celebration.