Why Choose Bunting From The Cotton Bunting Company?


Fantastic quality. Original designs. Care and attention from fabric to finish. Our cotton bunting is magical stuff - it transforms any venue, adding sparkle to every event. And it's designed to last, to be re-used and enjoyed time and again.
We don't make bunting for anyone else. Our cotton fabric is cut by hand, machine stitched by experienced craftsmen, and finished to our trademark quality.
We use only pure 100% cotton fabrics. No plastic, no polyester (except for the silver brocade letters in our Just Married Bunting), no paper. Just pure natural cotton. Even on our header tape.
We hem every pennant. With fine straight stitching. We won't leave any edge unfinished, badly sewn, or, heaven forbid, cut with pinking shears. So our bunting won't fray, and can be re-used time and time again.
We add generous tie-length and loops at each end so it's easy to hang or tie together when longer runs are required.
We understand that sometimes you can't order until the last minute. So we hold our bunting in stock in our warehouse, ready for immediate pack and despatch.
We don't charge for delivery to any UK address and your order will arrive within 5 working days. And if you need it quicker, we'll arrange it.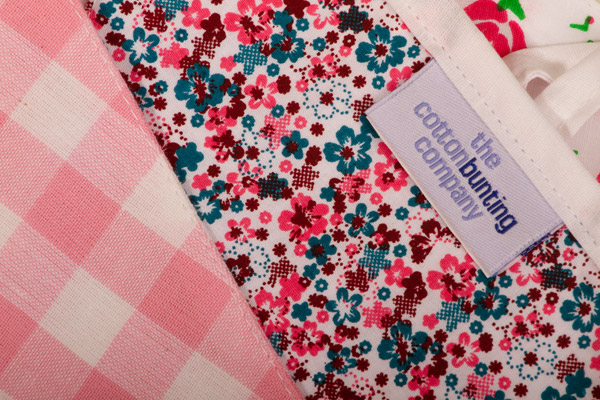 We've supplied bunting for some of the biggest movies, the most lavish TV productions, the biggest-brand commercials, and the most famous rock bands! And to some of the most famous addresses in the UK.
We stand by our guarantee of quality with a simple 30-Day Returns Policy. If you're not delighted with your bunting, for any reason, or if you find you've ordered too much, just send it back to us unused for a refund.